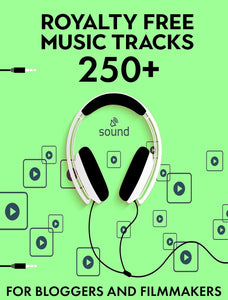 THIS IS THE BEST DEAL YOU WILL EVER GET ON THE INTERNET.

Do you want to know why?
IT'S VERY SIMPLE: It took us 5 years to create this versatile ROYALTY FREE sound pack to save you a lot of time and money. Moreover, we sell these for $10-30 per track on different music stock websites, so the value you are getting is UNBELIEVABLE...it's WAY MORE THAN $3000!!!!

Not convinced yet? Let's talk about possible video types you can use it in:
- Advertising
- Motivational
- Corporate
- Promotional
- Wedding
- Inspirational 
and many other types.

You can use our Royalty Free Music Pack on YouTube, TV, Facebook, Instagram, Web Advertisement, visuals and EVEN WITHIN GAMES!

HERE ARE SOME EXAMPLES OF WHAT YOU WILL BE GETTING:
Summary of the product:

✅  260 different tracks

✅  Royalty free

✅  9 categories

✅  Direct digital download

✅  Instant download link delivery

✅  Created by a professional musician

✅  Two Formats: Wav (16 bit) / Mp3 (320 kb/s)

9 Popular Categories: 
Business & Corporate - 85 
Ambient - 34
Acoustic - 14
80's - 7
Rock - 9
Holiday & Seasonal - 16
Fun - 6
Epic & Cinematic - 79
Electronic - 10