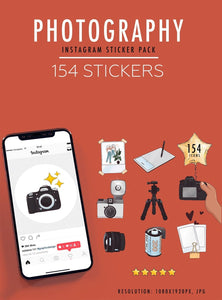 📷 Photographers, do you want to get more from your Instagram stories? It's been proven that Instagram stickers are very useful in increasing engagement and getting more of your followers attention. Therefore, we have created a stickers pack that has been especially focused on photography area to get your stories to stand out.
There are 154 unique Instagram-ready stickers in the pack on png transparet background. 127 are various stickers such as camera, film, etc and and 37 text stickers such as "Q&A, selfies 🤳, backstage, commercial, before/after and many others".
On the top of that all of the text selfies are saved on 4 different backgrounds (blue, brow, rust and white), so you can use them as separate stories. For example, if you have images from a shoot and it's backstage, you can use "backstage" text on a colored background  as a separator between these two types of stories.
By the way, these are very easy to use: download them to your phone, add to your camera roll and start using as stickers in Instagram. Alternatively you can leave them in a download folder and simply copy and paste them one by one into your stories. It's all up you. Instructions are included. 
Product specs: 
✅ 154 Instagram-ready Stickers
✅ Direct digital download
✅ Instant download link delivery
✅ Full product support
✅ All on the transparent background
✅ Super easy-to-use

 Grab This 154 Photography Instagram Sticker pack
For Just  $160

 

  

 

$24.99 Today !
ENJOY!!! :) Feel free to email us any questions via info@creative-deals.com